Pipelines:
Thirlmere link mains – United Utilities & Farran Roadbridge Joint Venture (Completed 2020)
gphl are working alongside the Farrans Roadbridge Joint Venture on the installation of a 5.3km section of a twin 900mm welded steel pipe line within the Lake District National Park, a UNESCO World Heritage site. During this environmentally sensitive project, we are installing the pipeline at depths of up to 7 metres through rock as well as crossing a SSSI and SAC Rivers.
Completed July 2020
St Johns Beck Crossing Thirlmere (Completed 2018)
(Click the images to view in full screen)
This SSSI salmonid river was successfully crossed by gphl in the Autumn of 2018 using a cofferdam to stop the river and diverting it through twin 20m overhead flume pipes. This involved excavations of up to 4m under the river bed to install twin 24 meters of welded water pipe, and then reinstating the river bed and banks back to a high standard, all within a two month time period. Such was the interest we were visited on site by the Pipe Industries Guild, the National Park Planning Authority and of course the Environment Agency all of whom were delighted with our work.
Hydroelectric
Inverbroom Estate – Loch a' Bhraoin Hydroelectric Scheme
(Click the images to view in full screen)
gphl are pleased to be the main contractor on the Loch a' Bhraoin hydroelectric scheme in Ross-shire on behalf of Inverbroom Hydro Ltd.
The 2MW scheme comprises the construction of a small dam with an "Obermeyer" tilting spillway on the River Cuileig, just downstream of the outfall from Loch a Bhraoin, a buried pipeline approximately 2.5km long, two secondary intakes with connecting buried pipes, a powerhouse and a tailrace channel returning the water to the river. The scheme include two Francis turbines supplied by Gilkes, and will be connected to the Electricity Distribution Network by a buried cable.
The scheme was consented in November 2018 and construction started in April 2019.
Updates:
May 2021: Main civil works complete along with the low visual impact dam structure and restoration. The scheme is now fully operational.
July 2020: Despite 3 months of lockdown, our program has only been moderately delayed and we are still on target for completion in 2020. This is thanks to our extremely hardworking team. The powerhouse has been completed along with the pipeline.
Balmoral Estates – Glen Muick Hydroelectric Scheme (Completed 2020)
(Click the images to view in full screen)
gphl are Principal Contractor of this high profile project on the Balmoral Estate in Aberdeenshire. Working in partnership with Cairneyhill Ltd., hydro consultants, this scheme has been successfully brought through planning and is now in construction.
This is a 2MW run of river hydro scheme providing power to the national grid and once completed will provide 6% of the domestic electricity consumed in the Cairngorms National Park.
Water is abstracted from the River Muick by a screened weir and diverted through a 3000m GRP pipe of 1600 mm diameter to a concrete semi buried powerhouse and returned to river through a tailrace. Twin Gilkes Francis turbines will produce the electricity which will be transformed to high voltage and passed through a 5000m underground cable to the grid connection near Ballater.
Completion was in Spring 2020 and took 15 months.
Updates:
October 2018: Work commenced.
June 2019 – The powerhouse is nearing completion with the main structure completed. The River Muick diversion has now been completed, along with the construction of a temporary bridge. This diversion is to allow the construction of the intake structure.
June 2020 – The project has now been completed and is fully operational. Additional features of the project were the renewal of the Linn of Muick fish pass with a new 4 tier Alaskan fish ladder, and providing a semi-buried powerhouse that is screened from view.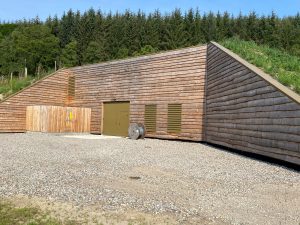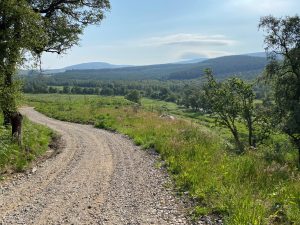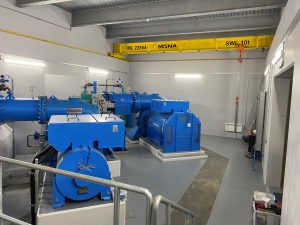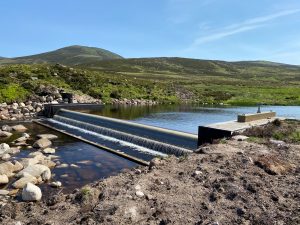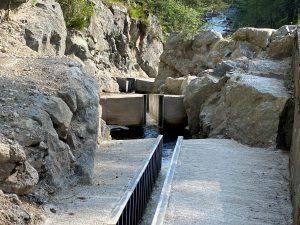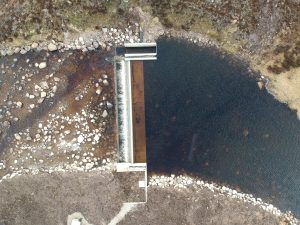 Cofferdams:
United Utilites – Volkerstevin -C2V- Dearham WWTW (completed 2018)
(Click the images to view in full screen)
gphl have completed the installation of a 6 metre deep circular steel piled temporary works cofferdam down to underlying bedrock to enable the construction of concrete structures. The cofferdam was 16 metres in diameter and constructed using our own Larson piles. The site was located within a waste water treatment works in west Cumbria. We excavated the cofferdam, de-mobbed whilst the structures were built, then carried out engineered backfill and removed the cofferdam.
Earthworks:
Dacre Homes – Archaeological investigations at Abbeytown (completed 2021)
gphl were engaged to remove topsoil and carefully scrape layer by layer down to the archaeological horizon. After the investigations were complete, we backfilled the site and returned it to its former state. The work is very delicate and required a lot of communication with the archaeologists on site in order to preserve any archaeology present.
Flusco Wood Holiday Park – foundations and landscaping for lodge bases (completed 2021)
(Click the images to view in full screen)
gphl are pleased to be engaged as the main contractor for developing land for 26 new lodge bases
Work began in January 2019 with clearing vegetation and setting out the new base positions. This is a full infrastructure package including roads & sewers to adoptable standard, foundations & blockwork up to ground level, and landscaping to fit within the natural surroundings of the holiday park. Phase 1a is 9 lodges scheduled to open Spring 2020 (target met, but Covid-19 delayed opening), phase 1b is additional 6 lodges opening Spring 2021 (target met, opening delayed a little with Covid-19), phase 1c is a further 6 lodges scheduled to open in Summer 2021 (target met). Phase 2 is an additional 5 lodges scheduled to open in Spring 2022.
Updates:
July 2019: 4 of 9 bases complete and ready for lodges to be installed and connected.
August 2019: Additional 2 bases ready for lodges. Phase 1c and 2 underway.
November 2019: All 9 bases in Phase 1a ready for lodges. Phase 1b has some completed bases and groundworks.
March 2020: Phase 1 (9 bases) foundations and landscaping complete with lodges installed and connected.
December 2020: Phase 2 (12 additional bases) foundations complete and ready to receive lodges.
March 2021: Foundations, groundworks and landscaping of phase 1b and 1c complete with gravel laid and grass seeded.
July 2021: All bases complete and ready to receive lodges